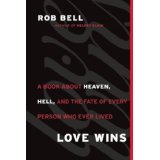 I love Rob Bell and all of my friends who agree with him and the views that he proposes in his new book Love Wins which releases today. However, I disagree with Rob Bell and I would have to disagree with my friends who agree with the views he proposes in his new book. However, despite my disagreement, Love should Win among us all, and we should not allow our disagreements, no matter how deep they are to divide our love for one another. The moment your beliefs steal your love your beliefs becomes your god.
(UPDATED) Note: I have started reading the book, but am not finished, so far everything in the post stands true. I HAVE NOT read Rob Bell's new book. I am was solely basing my opinion on three things: 1) The reviews from supporters of Rob Bell's book and the reviews from non-supporters of the book (overall, the reviews agree on what's being said on the content, but the disagreement comes in the beliefs of the theology and subject matter). 2) Rob Bell's own views expressed in his interviews. 3) The pre-video released by Rob Bell to promote the book. 4) The theology of Universalism (in general)
Here are some of my major disagreements and initial thoughts on the subject. I'll start with the most top disagreements in case you stop reading 🙂
The Chasm
No one can disregard the parable by Jesus, because it's Jesus talking. I hear people all the time wanting to disregard words by Paul and others because it wasn't Jesus, however this Scripture is from Jesus, so it carries a lot of weight.
Luke 16:19-31 is the story of the rich man and Lazarus. Why is this so important to Rob's new book, Love Wins? Well, Rob said himself that he does not believe that Hell is locked from the outside, rather some people create Hell here on Earth while they are other people's Hell. He also expressed views that painted Hell as a temporary place, a time-out, if you will. To Rob and his supporters it is a place that people choose to go until they are willing to view God for who he is and at that point, because Love Wins, they are free from their Hell. For Rob, Hell is not a permanent place.
Yet, the Bible and Jesus refute this view in Luke 16:19-31. In this parable the rich man goes to Hell and is in torment. He is suffering to the place where he requests that Abraham would send Lazarus to him to just give him a drop of water. Abraham refuses and says that Lazarus is with him being comforted while the Rich man was there in torment. He expresses even if they wanted to, they couldn't because there is a great chasm separating them.  The rich man then requests for Abraham to send someone from the dead, like Moses, to WARN his family of the pending torment of Hell.
There are three main issues here that must be focused on:
The rich man being in torment would have done anything and everything possible to get out of Hell being in the anguish and torment (flames) that he was in. He would have no problem at this point seeing God for who he really was and repenting to leave Hell.
Abraham says that there is a great chasm separating the two places and neither groups can get to each other even if they wanted to. This is the most destructive truth to Rob's viewpoint of an open door Hell.
Notice the rich man did not ask Abraham to send him from Hell. He knew there was no escape and no way to leave, or he would have. He asked that Abraham would send someone from his side.
I don't believe Rob leaves so many questions open ended because he is genuinely asking the question for his own benefit. He is asking the question to point people in the direction he believes, as well, he is painting a picture of those who disagree with him as being hateful towards him and attacking him. This is not true. I disagree with him but I am not attacking him. However, since we are asking questions, shouldn't this one be asked and answered? What about the Chasm?
Hyper-Calvinist without the Calvinist
The Hyper-Calvinist that I know do not believe in evangelism. Why? Because in the end they believe that God's elect are going to be chosen regardless and through His own means God is going to redeem those who he has predestined to be saved. Rob Bell's view is not much different, he's just promoting that EVERYONE is predestined because Love Wins and it would be unjust for God to allow anyone to go to Hell if he is love. There's only one problem with this reverse Hyper-Calvinism and with Hyper-Calvinism while we are at it:
Romans 10:13-15 – Not only must a person have faith in Jesus alone for their salvation (Ephesians 2:8-9), but they must call on the name of the Lord to be saved. Romans goes on to say that how can someone believe on a person they don't know about and how can they know about someone they've never heard about. Beautiful are the feet of those who go and share the Good News of Jesus. This would be a moot point if in the end, someone can make a final decision that they were wrong this entire time and they need to believe on Jesus for their salvation. The need for the message of the Good News would be pointless and void because in the end, everyone (or for the Hyper-Calvinist, the elect) will be saved. Basically this view is saying we can be lazy and silent about Jesus because in the end Love Wins anyway.
Martyrs and Missionaries Must Be the Stupidest People on the Planet
If Love Wins as Rob Bell sees it and everyone ends up in Heaven anyway, then he just made Martyrs and Missionaries the stupidest people on the planet. Why would anyone risk their life or give up their life preaching a message that in the end doesn't matter much for the people of other faiths who have good intentions, but just doesn't happen to use the name Jesus when they refer to their god? I work for a church who supports a lot of missionaries. Some of these missionaries cannot have their names or locations printed in any material or posted on the internet because their lives are in such danger. What stupid people! Pack-up and come home, live life, have fun, enjoy every minute of it, and let God woo those people in the end.
How does this view of an empty or an open, non-permanent Hell, with an afterlife decision opportunity not diminish the gospel and the work of Christ here and now? How does this view not diminish the commission of Jesus himself to "go make disciples?" Do those of us who are able to lead people to Christ here and save God that extra work get some kind of prize in the end? Rob's view, in my humble opinion, just keeps unraveling for me.
Hints of Mormonism
I guess if other religions despite their belief in the actual Jesus is acceptable in the end, then, it is also okay to grab a few ideas from the Mormon religion. From my understanding, Mormons believe that there are second chances after death as well. Of course there is some temple work that has to be done on the part of the persons loved one, but regardless, death is not the end, it is the beginning. People who hold a traditional view of the gospel message is being painted by Rob Bell as being closed minded and unwilling to accept new ideas about a progressive faith, he even gives a slight pity party to say how people hate him and are attacking him, which I have not seen. However, I believe what I believe because I have studied it out #1 for myself and it stands firm on Scripture. The question I have is this, "Where is there any hint of a second chance in the afterlife to choose Jesus or to see God for who he really is, anywhere in the Bible?" "Where did Jesus even hint at such a possibility?" Rob says he wants to have a conversation on these issues, so in my conversation, I would like these questions answered.
The Bottom Line
It wasn't a day after the first blog popped up declaring that Rob Bell may be a Universalist, that those from Rob's viewpoint started saying that people like myself only believe in Hell because it gives us permission to hate our enemies and that we have a twisted viewpoint to want there to be a full Hell, etc. I've never heard something  more outrageous in my life!!! I believe in a literal, hot, tormenting Hell, and I don't believe there is a second chance after this life to choose Jesus. That's why the reality of Hell must be preached here and that's why the gospel must be preached now. I don't want a full Hell, but that's what I believe it will be if we become silent about Jesus and the gospel and if we start telling people to live life to its fullest now because in the end there is no way a loving God is going to let them go to Hell, so they can choose Him anytime they want. If I hated my enemy, this is the message I would preach. If I hated my enemy, why would I want to warn them about Hell? See how dumb that accusation is?
Love Wins because God loved a world full of people who took the perfect gift he gave us and we rebelled against him and through our sin we broke his ideal plan. Through this love of His, he sent the perfect sacrifice through his son, Jesus, so that all those who believe in him, would be redeemed. It would be disgraceful to call this act by God hate and it would diminish God's power to say it's not good enough and that we need an after-death grace period because the time on Earth He gave us was not long enough. Rob Bell wants to talk about Hell limiting the power & love of God, however, saying that a person cannot come to faith in the lifespan God gave them, would diminish God even more.
I may be totally wrong about Rob Bell's views on this matter once I read the book, but based on his own answers in his interview and the reviews from those who both agree and disagree with him, I believe I am completely accurate. If I find I am wrong I will apologize and correct it as emphatically as I have dismissed it.
**Also, please note, I have not and am not attacking Rob Bell or those who agree with him, I have simply pointed out some of the areas where we disagree, Love Wins**