I was recently introduced to the music of the Rhett Walker Band. Their music is awesome. I don't care if you like the "style" of music, it is obvious that the lyrics have been birthed out of a life transformed by the radical grace of God.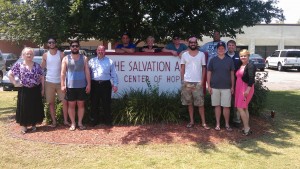 I had the privilege of personally meeting the members of the Rhett Walker Band as well. These men are down-to-earth and represent Christ well.
I love their entire CD, Come to the River. It is available on iTunes for $7.99 – That is a steal! Buy it. I keep listening to it over and over again. <—- That's my review. No need for a lot of words and no need to compare them to Third Day or any other group. They are the Rhett Walker Band and I am excited about the music they are creating now and will create in the future. It's unique and powerful.
When they played in concert in Evans, one song in particular caught my ear, Brother. The message perfectly describes life in general, but also our vision for New Passion and our mission at the Salvation Army, where I work. Here are the lyrics and then you can listen to the song below:
You're a king and a prisoner
One for each eye
Starting to believe your own lies
You hold every moment
Tight at the throat
But nothing's ever out of control
You act like you know every answer
Making your world work just right
Never a question, never a doubt in sight
Brother don't you know
No one's too high to fall
No one's strong enough to make their own way
Brother don't you know
We're all just beggars and thieves
In need of the very same grace
The very same grace
A days always coming
When our kingdom breaks down
Our plans are like glass on the ground
You act like you know every answer
But missing what matters most
Confessing our weakness
Cause that's when God moves in close
Come down off of that mountain
Let go of everything
Come join us who are broken
That mercy is healing
What a great message. The whole point of the gospel: "Brother don't you know, we're all just beggars and thieves, in need of the very same grace…" "Come join us who are broken, that mercy is healing"
Listen to Brother below, it cannot be downloaded…

Rhett Walker Band on Facebook ::: Rhett Walker Band on Twitter ::: Rhett Walker Band on iTunes
Popularity: 2% [?]