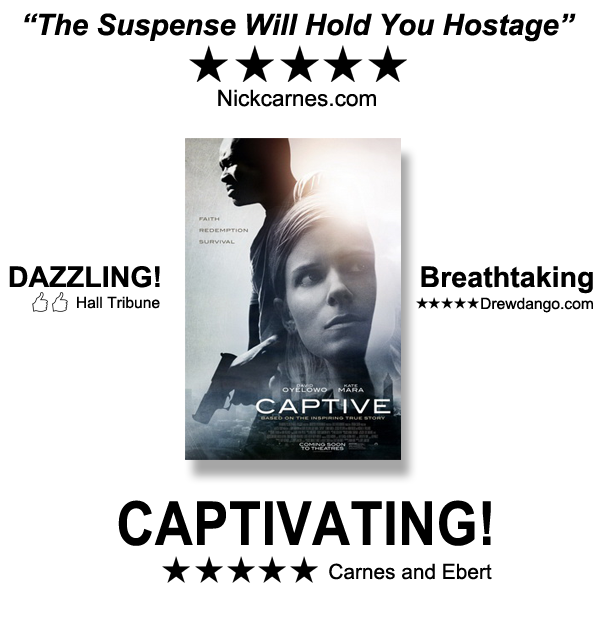 Captive is a great movie that shows anyone HOPE is possible, even in their darkest hours. Here are a few spoiler free things I enjoyed about the movie. After reading my thoughts, make plans to go see #Captive on opening night, Friday, September 18, 2015.
Captive is NOT God's Not Dead and that's Okay: If you're looking for a movie with an overtly evangelical, "Go get saved now" message, this is not that movie, and that's okay. The movie is effective as it shows how two people in seemingly hopeless situations discovered hope was possible, even in their darkest hours. The movie is based on a true story & does a good job, in the limited time available, portraying what took place with the Atlanta court escape by Brian Nichols, the murders he committed, along with his eventual kidnapping of Ashley Smith [Robinson], and how Ashley became a hero in the midst of the crisis.
A Powerful Conversion Story: Although there's not a highlighted moment showing someone place their faith in Jesus for Salvation (Ashley was already a Christian), there is a very powerful conversion that takes place when Ashley decides she's not using drugs again, even under the threat of death. It was one thing to read about this moment in her book, but even more powerful to see it on screen. Kate Mara did a great job reflecting Ashley's struggle and eventual resolve.
Captive is Not What You Think: Captive, what a great, unoriginal title for a movie about a hostage situation! You may think that before watching the movie, but you'll find Captive is actually a deeper story than that. The underlying story is about two individuals held captive by their own personal demons, constantly haunted and unable to find freedom, until forced to finally decide how they would find their own freedom, would it be through choosing life or death?
God has a Purpose for Everyone: Can God use an addict to get a murderer off the street? Can God use a murderer to get an addict clean? Can God use the sacrifice of a hero to bring peace to a city? Although it may not be overt, the message of the gospel and God choosing to use whom He pleases is weaved into the movie. God has a purpose for everyone, but not everyone sees it. Blinded by personal choices, failures and even successes, people will write off God, even though God hasn't written them off.  Ashley's boldness to share the Purpose Driven Life with Brian brings God's redemption to the forefront of the story.
Take the Next Steps: Captive provides a great opportunity for churches to take their congregations to see the movie together and then provide follow up discussions to discuss such topics as substance abuse, mental health issues, God's purpose for each of our lives, the gospel, second chances, and many of the other themes presented by the movie. It doesn't have to be churches, it could be small groups, or friends; just don't miss the opportunity to take the next step by following the movie up with quality dialogue.
Helpful Resources: