Velocity 2010 Church Planting Conference
Session 6 Speaker: Rick Warren
If God has called you to be a church planter, do not STEP down to do anything else…not even the President of the United States. This is the greatest calling.
1,000 Years from today, if Jesus does not come back, all Kingdoms will have fallen, but the church will still be standing.
If you can grasp that God created me to love me, I should never struggle with inferiority again.
No need for posing, masks, being cool, etc. Because God chose me.
Nothing matters more than the church.
Do All for the Global Glory of God.
The more important your job, the more humble you must be.
What the church is doing will outlast anything Bill Gates, Any Country Leader, Famous Musicians, or Famous Athlete does.
We need new churches for new generations.
Spread the major mistakes around. Challenge staff to make 1 major mistake a week J
Rick's Rules for Church Planting:
1.    Don't take early losses seriously – They don't determine the outcome of your church.
-Ignore your early losses…Rome was not built in a day, neither is a church.
A mushroom takes 6 hours to build; an oak tree takes 60 years. Do you want a mushroom or an oak tree as a church?
Legitimate growth is conversion growth.
Focus on membership & discipleship, not on the crowd or the numbers.
The measure of a church is not its seating capacity, but its sending capacity.
It's not a sin to be a small church, it is disobedient to be a small minded church.
If you want the anointing of God in your life & his blessings; your life must be built on humility, integrity, and generosity.
These are the antidote to the three Greatest Traps of Ministry and Leadership:
The Kingdom of God needs us to FINISH WELL. It does not need us to flame out.
Satan is entirely predictable. His main 3 temptations are:
1.    Lust of the Flesh is the temptation to Feel – Anything that makes you feel good. (Hedonism) (Pleasure) [Sex]
2.    Lust of the Eyes is the temptation to Have –
(Possessions) [Salary]
3.    Pride of Life is the temptation to Be – Desire to be worshipped, envied
(Position) [Status]
Never confuse your self-worth with your net-worth
Jesus was tempted to use what was given for ministry to feed him-self.
Satan wants to tempt us to use our gifts on ourselves, verses for the ministry and what God has called us to.
Jesus was tempted to be spectacular with the gift he was given.
Satan will tempt us to be spectacular.
Glory comes from suffering, not showing off.
You don't have to be original in everything that you do.
Church planters need to study a lot of the first 1500 years of the church for deep roots.
Jesus was tempted with things.
Satan will tempt us to develop a spirit of expectation that we deserve things because of what we've done.
Antidotes to these 3 Temptations:
1.    Integrity – From Integer "A unit of one" – Our life is one, we are not separated into sects, we are one.
"Titanic Trap" – – You cannot compartmentalize your life. If you try, you lack integrity.
A hole in your life is a hole in your life and it will sink
You never sin privately, you are affecting your family, your church, and others you influence.
You don't have to be perfect to have integrity, you have to be authentic.
2.    Generosity (antidote to the lust of the eyes) –
The way you spend your money shows what you value.
The more I give the more I become like Jesus.
You can give without loving, but you cannot love without giving.
Every time you give you break the hold of materialism in your life.
3.    Humility – (antidote to
It means you don't give yourself the title "Apostle"
If you have to have a big title you're not humble.
Titles mean nothing, what matters is do you love people?
Don't give in to false humility:
God created you, Jesus died for you, the Holy Spirit lives in you. You are not junk.
Humility is not denying your strengths, but being honest about your weaknesses.
We grow fastest and best through models.
It's better to have someone following a person who is trying to do right versus someone who isn't trying at all.
Someone who is not teachable is not humble.
Be humble or you will stumble.
Lesson from the whale – When you get to the top and get ready to blow, that's when they harpoon you.
How do you bring people through the front door and out the back to get involved in missions? You better have an intentional process.
It's not about looking cool, it's about meeting needs.
If you are going to last and make it to the end…you must understand the 6 phases of faith:
When God does any miracle…he takes it through 6 phases of faith:
God…
1.    Gives a Dream
2.    Decision (choose to go after it) – Dreams are unimportant if they are not moved on.
3.    Delay – Always a delay (New Passion 3 years) – God is not a vending machine. God is more interested in the individual than the dream.
4.    Difficulty – You will face all types of problems (Critics, Lack of Resources)
5.    Dead-End – The death of a vision
6.    Deliverance – God likes to turn difficulties into possibilities; He then gets the glory, not us.
Every time we hit a dead-end, God does not want to help us, he wants to do a miracle.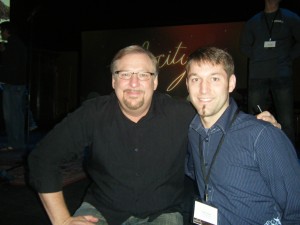 Velocity Conference: Main Session 1 Highlights – – Main Session 2 Highlights – – Main Session 3 Highlights – – Breakout Session 2 with Pete Wilson Highlights – – Main Session 4 Highlights – – Breakout Session 3 with Tony Morgan Highlights